Lightning Poster!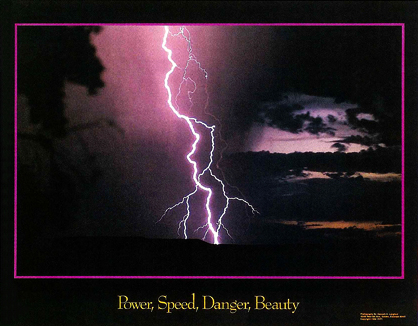 Electrify Your Wall!
This beautiful lightning poster was photographed by Ken Langford, and is available here and now for only $10.00 each plus $3.00 S & H. It is suitable for framing, or even just to hang on the wall alone. It measures 22" x 28", which is a standard frame size if you prefer to use an off-the-shelf frame to save money. The poster features a finish-coat varnish which resists fingerprinting. The poster is mailed rolled in a tube.

Orders in the USA: Use Paypal to ORDER NOW. Allow 5-6 weeks for delivery. The cost is $10.00 plus $3.00 shipping & handling, for a total of $13.00 each. Colorado residents must pay 4.2% sales tax. PayPal is the only method of payment accepted at this time.
International Orders: Inquiries must be sent in advance to trylucius at comcast dot net. Postage and handling will be determined based on your location, and a quote will be returned to you.
Refund Policy: Mr. Random Enterprises will refund the purchase price only (not S & H) on any item returned in perfect condition within 30 days of the date that the item shipped from Colorado.